The annual influenza epidemic begins in the southern hemisphere and works its way north. It enters the USA in the southern and western states. The CDC uses reports from Australia to monitor the type and severity of each year's incursion in the southern hemisphere. Normally flu hits the US in December. This year the flu is here now (see map above).
The news from Australia this year is not good. They had their worst epidemic in five years, with both more infections and a disproportionately high number of severe infections. The same precautions we took to prevent COVID infection prevented flu infection, so people have two years without exposure the flu, and therefore less natural immunity.
The illustration below shows that flu is already present and increasing.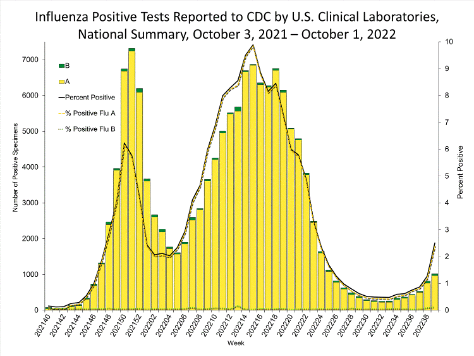 While the President may have declared the pandemic is over, there are still 135,000 people in the United States dying from COVID-19 per year. That's 2,600 deaths per week. By comparison, the national average for flu deaths is 38,000 per year.
COVID-19 has mutated again; the new variant is BQ 1.1. It is totally resistant to all present immunoglobulin infusions; however, the new COVID Variant Vaccine (Booster number 3) promotes partial resistance. BQ 1.1 jumped to 11% of infections in New York City last week. You can assume it is already in Boston.
The combination of increased influenza and a new COVID-19 variant have epidemiologists up at night worrying about the impact of the "twindemic."
We anticipate the increase in flu cases, with a disproportionate increase in flu hospitalizations. We anticipate COVID-19 increasing as people spend more time indoors, mask less, and have more holiday social gatherings. COVID-19 hospitalizations, when they occur, consume enormous resources, and can result long hospital stays, or deaths. The combined surge in influenza and COVID-19 cases can place the already damaged heath care system at risk of collapse.
This is the current (as of this writing) CDC map of the United States. Influenza is here and spreading rapidly. Two weeks ago, Texas was the only moderate state. Georgia jumped ahead of Texas. Progression is rapid and intensifying.
If you are "timing" your flu or COVID booster shots, you are out of time.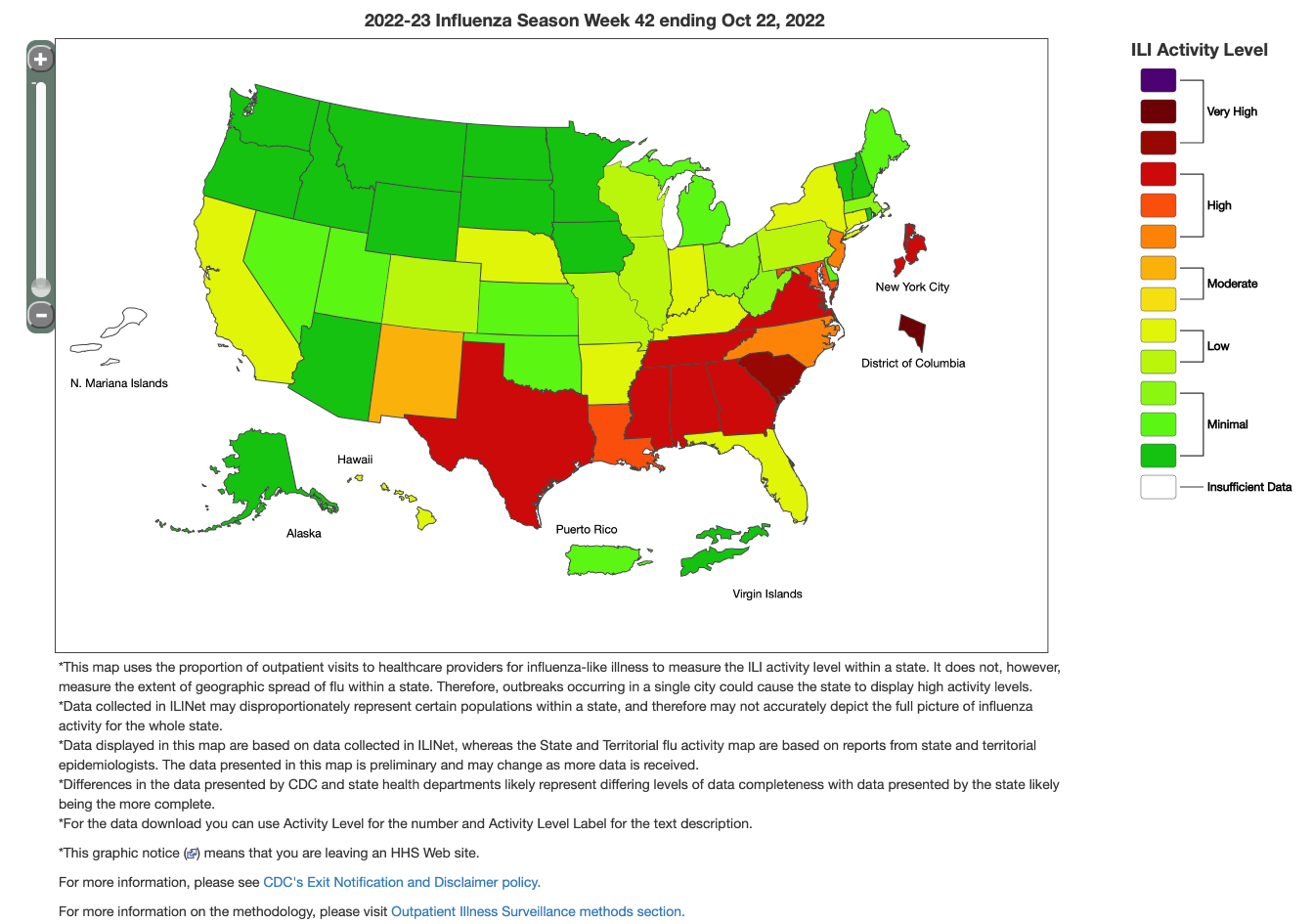 Article written by: Dr. James Edward Katz, MD MPH
Editor's Note: We have corrected the figure stated for annual deaths from COVID. Annual deaths from COVID are 135,000, not 5,000